Gregg's March
from Port Hudson to Raymond
"Send General Gregg's brigade at once to Jackson. On reaching Osyka, if transportation is not furnished, he must go up the road until he meets it. Direct him to move rapidly."
Lt. General J. C. Pemberton
May 1, 1863
(Excepts from In Their Own Words: Soldiers Tell the Story of the Battle of Raymond by Rebecca Blackwell Drake)
Gregg's Brigade, acting on an order from General Pemberton, endured an eight-day, two- hundred-mile march from Port Hudson, Louisiana, before arriving in Jackson on Saturday night, May 9. The march was excruciating due to the heat, worn shoes, dilapidated trains, and hostile Unionists who denied the soldiers access to water.
W. J. Davidson, 41st Tennessee, recalled the fatiguing march that began on the coast of Louisiana and extended to the heart of Mississippi: "How many of us started with loads heavy enough to break down a mule; how Jack Smith went some distance before he found out he had left his cartridge box, and the laugh we had at his expense; how we trudged along through hot, dusty lanes, panting with heat and thirst, breaking down under the unaccustomed loads, our feet blistered and legs swollen; how on the first day we were refused water by a wealthy Louisiana woman, whose servants kindly offered to sell it to us at twenty-five cents a canteen full; how loth we were, at that time, to drink of the dirty pools by the way-side, but had to.
"These form some of the incidents of the first day's march of eleven miles. Each succeeding day we suffered an increase of these hardships; our feet became so sore that we could hardly put them to the ground, and many of us threw away our shoes and surplus clothing. We had to make longer marches; our rations gave out, and the heat and dust became almost insufferable; at the same time, we had to keep a sharp lookout for Yankee cavalry; and, to crown our misery, on reaching Osyka, seventy-five miles from Port Hudson, where we expected to take the cars, we found that the railroad had recently been destroyed by a raid under Grierson as far as Brookhaven, except about ten miles, and that we would get no more rations until we got to the latter place.
"Parched corn and peas, with a little rice, constituted our ration at Osyka; but the next night we succeeded in reaching Magnolia, where we took the cars and rode to Summit, a distance of ten miles. At Summit we were most kindly treated by the ladies, who vied with each other as to who could do the most for us. They fed at least half of the brigade. We took it afoot to Brookhaven, a distance of twenty miles. Here we boarded the cars for Jackson, where we arrived on Saturday night, after being one week on the route. At Jackson we were allowed to rest all of Sunday..."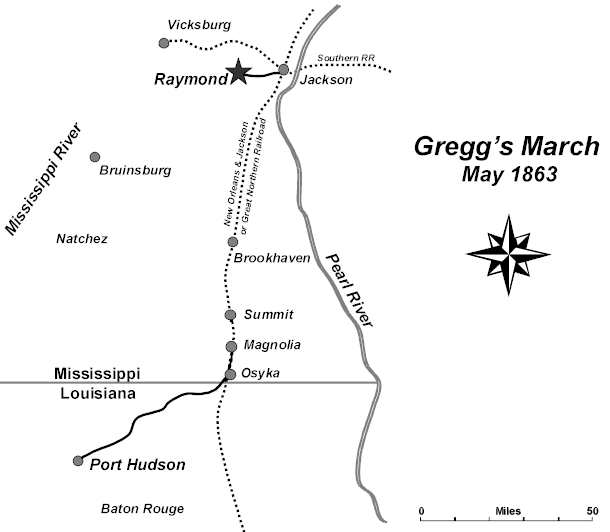 Gregg's Brigade would arrive in Jackson on the evening of Saturday, May 9th. As the brigade enjoyed their short-lived rest on the banks of the Pearl River, General Gregg received an order from Pemberton: "Sunday, May 10th - Move your brigade promptly to Raymond, taking three days' rations, and carrying only cooking utensils and ammunition; no baggage." The following day, Gregg received another dispatch from Pemberton directing him to Raymond and telling him that Col. Wirt Adams, Mississippi Cavalry, would provide advanced pickets.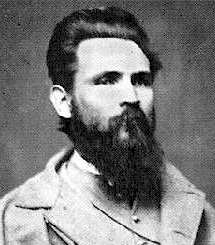 General John Gregg

Before sunrise on the morning of May 11, a sharp bugle blast broke the silence of the early morning hours. "At five o'clock Monday morning," wrote Davidson, "we were ordered under arms without a moment's preparation, and had to start without cooked rations. Many of us left our clothing, thinking that we were only going to move to a more suitable camping-ground, and were not a little surprised when, after marching through Jackson in column of platoons, we turned our faces westward, and it leaked out that we were going to attack the enemy."

Sgt. Sumner A. Cunningham, 41st Tennessee described the march. "When we received orders to march from Jackson to Raymond - without time to rest from the hard marches from Port Hudson to Jackson - we were no better physically than mentally to start on another forced march." As the Confederate Army marched through Jackson toward their unknown destination, they were surprised to find the streets lined with curiosity seekers. Cunningham wrote of the Confederate Army as they left their camp on the Pearl River and marched west toward Raymond: "The morning of May 11, 1863 was bright and pleasant. Our men, after a march of two hundred miles from Port Hudson, La., were scattered about the camp which we temporarily occupied about one mile north of Jackson, Miss. The men were in groups, wandering about camp, or enjoying a cool plunge in the grateful waters of the Pearl River, which ran close by. Many an eye gleamed and brightened as some comrade ventured the prophecy that we were bound for Tennessee, for our brigade was composed of Tennessee regiments, save one."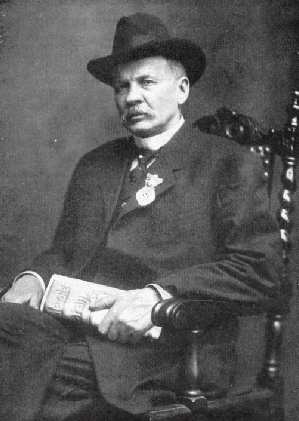 Following the war, Sgt. S. A. Cunningham, Co B, 41st Tennessee Infantry, moved to Nashville where he became the owner and editor of the Confederate Veteran, published from 1893-1932.
"The surmises were cut short by the sharp bugle-blast, which sounded the assembly. In a few minutes we were ready, and a short march brought us out on the hill overlooking Jackson. Halting to form, we began the march through the city. The Forty-First Tennessee, Col. Farquharson, was followed by the Third Tennessee, Col. Walker. Then came the Tenth Tennessee (Irish), Col. McGavock; then the Thirtieth, Col. Head; the Fiftieth, Col. Sugg, and the First Tennessee Battery, Major Colms. The rear was brought up by Col. Granbury, Seventh Texas, all under command of that lamented soldier and gentleman, General John Gregg, of Texas.
"The column was headed by the band of the Third, and it fell to my lot to command the advance. As we moved down the wide road, marching to the strains of 'The Girl I Left Behind Me,' I glanced back, and could not restrain a feeling of pride in the splendid array of gallant men, nearly all of whom I knew either personally or by regiment. It was a perfect body of men Gregg led through Jackson that lovely morning, and many a fair hand on this occasion gave the lie to the story that Jackson people charged for handing water to the noble fellows as they filed by.
"The streets [Jackson] were lined and the windows crowded as we marched along, not knowing our destination till we passed the depot and took the Raymond road. Raymond is the county-seat, although Jackson is the State capital, and both being in the same county. We soon met straggling cavalry who stopped in their mad flight long enough to tell us of a cavalry raid up from Grand Gulf. We had been itching for a fight, and could not have been better suited than to meet the raiders. The country was green with growing grain, and presented a peaceful, happy, and contented appearance."
*Grierson's Raiders was a brigade of Union cavalry ordered by Grant to wreak havoc across Mississippi. Grierson and his men sliced through the state from Tennessee to Baton Rouge. Their mission was to cut railroad lines, fight Confederate detachments, and in general, cause mayhem. These diversionary tactics distracted Pemberton's attention from the main activity of the Union Army.
---